The Sunday Post is a weekly meme hosted at
Caffeinated Book Reviewer
,
it's a chance to post a recap on the past week, show the books we have received and share what we plan for the coming week. Stacking the Shelves is hosted by Tynga's Reviews and Showcase Sunday is hosted by Books, Biscuits and Tea and the aim is to show our newest books and to see what everyone else received for review, borrowed from libraries, bought in bookshops or downloaded on to their e-reader. As always you can click on any of the pictures to be taken to the Goodreads page for that book if you're interested in finding out more about it.
Last Week on the Blog:
Reviews:
Ann: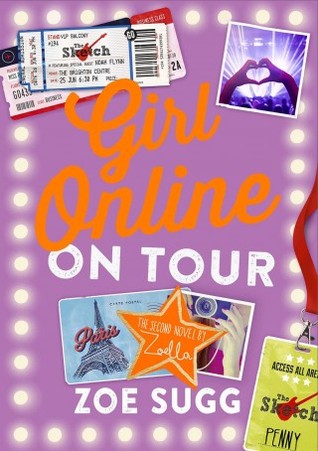 Girl Online On Tour by Zoe Sugg: Clare got me the signed edition as a surprise present! I have already read this and loved it - I will have a full review up soon.
Clare:
Death in Berlin/Death in Cyprus/Death in Kenya by M.M. Kaye:
These arrived and completely threw my reading plans because I wanted to read them straight away. Luckily they were really quick reads.
Binge by Tyler Oakley:
I got the signed edition so I am super happy with this!
I am currently reading this.
The Perilous Sea by Sherry Thomas: I somehow managed to get book 3 first and now book 2 and I am still waiting on book 1. But when it arrives I will be reading this pretty much straight away I think!
Velvet Undercover by Teri Brown: What is not to love about spies?
The Many Lives of John Stone by Linda Buckley-Archer: I admittedly first got interested in this because John Stone is my brothers name but the plot actually sounds pretty interesting as well.
A Thousand Nights by E.K. Johnston: This edition of the book is the most beautiful book I think I have ever seen. And I have seen a lot of books. I can't even describe it. The jacket itself is gorgeous and feels so soft and velvety and then underneath it's just crazy beautiful.
This Monstrous Thing by Mackenzi Lee: I think this is going to be so good next week when I focus on Halloween books.
Snow Like Ashes by Sara Raasch: I will be starting this once Ice Like Fire arrives.
Hold Like a Breath by Tiffany Schmidt: A crime family? Sign me up. (to read about not to be a part of.)
Delia's Shadow by Jaime Lee Moyer: This looks creepy which should be fun!
Illuminae by Amie Kaufman and Jay Kristoff: I've had a flick through it and the format is incredible. I am so, so excited to read this!
More Than a Mistress/The Secret Mistress by Mary Balogh: I had book 2 already so just needed these to complete the series.
Mistress of Mellyn by Victoria Holt: I have been recommended her books so often. This seemed to be the most popular one on Goodreads so I thought I'd try it.
Reading Update:
Ann:
Texas Gothic by Rosemary Clement-Moore: 4 stars, This was brilliant. I loved the relationship in this.
Girl Online On Tour by Zoe Sugg (Zoella): 5 stars, Fabulous! I loved this and will have a review up soon!
Clare:
I had quite a good reading week - mostly due to the Death in... series by M.M. Kaye because I stayed up all night to finish them!
Walk on Earth a Stranger by Rae Carson: 4 stars, I really enjoyed this, loved the main character and the plot was very thrilling. I have a full review up here.
Death in Berlin by M.M. Kaye: 3.5 stars, this definitely shows its age in the attitudes of some of the characters! But there was a good mystery and I liked the romance.
Death in Cyprus by M.M. Kaye: 4 stars, this mystery was a little easier to solve but still enjoyable.
Death in Kenya by M.M. Kaye: 3 stars, I solved this mystery about the same time as one of the characters did and it was a tense couple of chapters from there waiting for the big climax!
Death in Zanzibar by M.M. Kaye: 3 stars, enjoyable but I didn't like the way the mystery went.
Death in the Andamans by M.M. Kaye: 4 stars, definitely the funniest of the series and I really liked the mystery and the romance(s).
The Next Together by Lauren James: 3 stars, I was really enjoying it and then it got really science-y and the time travel aspect hit me and I got confused. I really should know better than to keep reading time travel books! Also not sure how I felt about the ending.
Black Widow Forever Red by Margaret Stohl: 3 stars, I liked this and obviously I adore Black Widow but I wasn't wholly bsorbed in the plot.
Life and Death by Stephenie Meyer: 2.5 stars. It could have been worse. This had some good points and some bad. It really didn't succeed at proving the lack of sexism though. If anything it made it worse. I will have a full review up tomorrow.
Carry On by Rainbow Rowell: 5 stars, I am pretty sure this is my favourite book of the year. I can't even think rationally about - this was just amazing. I loved every bit of it and I am desperate to re-read it now five minutes after I finished it. I don't even know what to read next because I now have a major book hangover! My full review will be up on Thursday.
Slasher Girls & Monster Boys selected by April Genevieve Tucholke: 4 stars, I really enjoyed this anthology. There were some really great stories and some that fell kind of flat but overall this was a really strong selections. I will have my review up on Saturday.
Classics Update:
Ann: 4 stars, I really enjoyed this. I lost my book for a couple of weeks which delayed me finishing it but I definitely enjoyed it once I got it back!
Clare: 3 stars, I enjoyed this. It was an interesting read from a character perspective although there wasn't really any plot. But I loved how the letters showed how differently people could view themselves and each other and the situations around them.
Next Week on the Blog:
Cover Characteristics: Eyes
Top 5 Halloween Recommendations
Wednesday Catch-Up
Friday Reads
October Wrap Up and November TBR
Upcoming Reviews: