Every Wednesday we are linking up with WWW Wednesday, What Are You Reading Wednesday? and Waiting on Wednesday.

WWW Wednesday is hosted at

Taking on a World of Words and asks 3 questions: What are you currently reading?, What did you recently finish reading? What do you think you'll read next? This is a similar meme to This Week in Books, hosted at Lipsyy Lost & Found.
What Are You Reading Wednesday are hosted on It's a Reading Thing and asks;
1. What's the name of your current read?
2. Go to page 34 or 34% in your e-book and share one complete sentence.
3. Would you like to live in the world that exists within your book? Why or why not?
Waiting on Wednesday is hosted at Breaking the Spine and is a chance to show what upcoming releases you are excited for! Each week we will take it in turns to choose a book for Waiting on Wednesday and this week was Clare's turn!
Ann:
Currently Reading: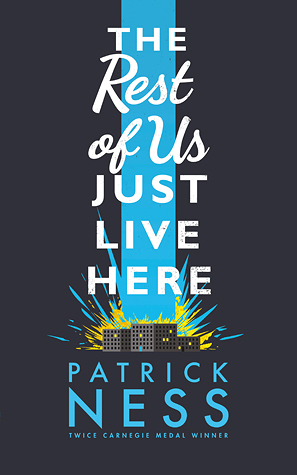 I am currently reading Timebound and The Rest of Us Just Live Here both of which I am really enjoying.
"You can hear coyotes at night and we get deer in our yard all the time."
I would love to live in this world because I would love to see a deer in my garden all the time! Also from the blurb it sounds like a cool place to live.
Recently Finished:
I have recently finished reading Just Like The Movies which was a good book but very annoying because it gave away the ending of some films I have yet to watch! I will have a full review of this up on Saturday.
Planning to Read Next:
I am planning on reading A Face Like Glass by Frances Hardinge next before starting on my Halloween reads.

Clare:
Currently Reading:
I have finished my Classic for the month and I will start a new one tomorrow but for now it means my focus is all on Six of Crows by Leigh Bardugo which I am so excited to be reading.
"The sharp tang of gunpowder already hung in the air - and along with it a question, unspoken in the quiet, as if the Reaper himself awaited the answer: How much blood will be shed tonight?"
Realistically speaking I don't suppose I would want to live in this world but I am already in love with these characters so I'd love to live in a world with them. Just, you know, as long as I don't get murdered!
Recently Finished:
Since last Wednesday I finished Good Omens which I really enjoyed, it was very funny. I then moved on to Best Friends Forever by Jennifer Weiner, which I thought was good but not nearly as suspenseful as I had expected it to be. The Language of Flowers by Vanessa Diffenbaugh was very beautifully written and I have a full review up here. I then had a bout of insomnia and couldn't sleep one night so managed to finish Not Without You, which was interesting but I thought had a weak mystery, Ember Island by Kimberley Freeman which was quite good and Lighthouse Bay by Kimberley Freeman which I actually didn't enjoy, although I think that was more my fault than the books, Always the Bridesmaid by Lindsey Kelk which was very funny as her books always are and It Felt Like a Kiss by Sarra Manning which was good. So insomnia - the secret to reading more (and also getting a headache that lasts a week). I then read The Dish by Stella Newman which made me so hungry you have no idea. I liked it but I thought the ending went on too long the conflict just took forever to wrap up. Then I read Prima Donna by Karen Swan which was good and I will have a full review up for it on Friday and Summer at Tiffany's and The Summer Without You which were both really good reads. If you like contemporary romance and haven't read any Karen Swan I do recommend them, they are chunky reads but well worth it!
Planning to Read Next:
My copy of A Curious Beginning just arrived!! It's way earlier than expected it's not even supposed to be released until Friday but I am so excited!! I know it's going to be amazing! Angel Dares by Joss Stirling is released tomorrow and I am excited to read it. This whole series has a bad case of insta-love but they are such fun reads and have such exciting plot lines that I find I don't usually care! After that - I don't know! It'll be October then so my Halloween themed reading month will begin and I have a lot of scary/creepy books to get to. So maybe Black Ice by Becca Fitzpatrick or maybe The Casquette Girls by Alys Arden. Let me know which one you think I should go with!
Waiting on Wednesday:
An English teen questions all she knows about aging when she encounters a set of journals that date from the present back to the reign of King Louis XIV in this blend of contemporary and historical fiction from the author of the acclaimed Gideon trilogy.

Stella Park (Spark for short) has found summer work cataloging historical archives in John Stone's remote and beautiful house in Suffolk, England. She wasn't quite sure what to expect, and her uncertainty about living at Stowney House only increases upon arriving: what kind of people live in the twenty-first century without using electricity, telephones, or even a washing machine? Additionally, the notebooks she's organizing span centuries—they begin in the court of Louis XIV in Versailles—but are written in the same hand. Something strange is going on for sure, and Spark's questions are piling up. Who exactly is John Stone? What connection does he have to these notebooks? And more importantly, why did he hire her in the first place?
Clare: This book was so destined for me. A) that's my brother's name, and B) a "blend of contemporary and historical fiction" is one of my favourite things to read. This just sounds so interesting and I really like the cover. This is due to be released on 20th October 2015.