WWW Wednesday is hosted at Taking on a World of Words and asks 3 questions: What are you currently reading?, What did you recently finish reading? What do you think you'll read next?
1. What's the name of your current read?
2. Go to page 34, or 34% in your e-book and share one complete sentence.
3. Would you like to live in the world that exists within your book? Why or why not?
Ann:
Currently Reading:
" It was to late to retreat, for the brown-eyed girl had evidently concluded that they were coming to speak to her." page 34 of Anne of the Island

"They always looked back before turning the corner, for their mother was always at the window to nod and smile, and wave her hand to them." page 34 of Little Women
As I have said before I would love to be able to live on P E Island because it sounds so beautiful and peaceful. Also they is very little danger there so very different to Clare's books
.

I have only just started reading Little Women so I don't think I could decide whether I want to live there or not at the moment. However from what I have heard about it I am leaning towards yes I would.
Recently Finished:
I have not been reading very much lately so I have only recently finished reading Anne of Avonlea. I am hoping my recently finished for next week will be better.
Planning to Read Next: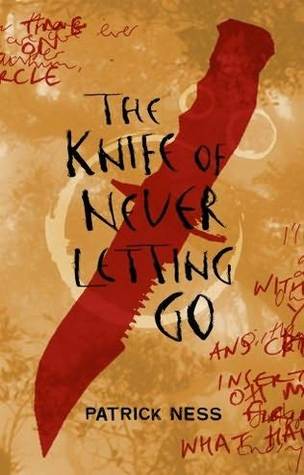 I am planning on reading Anne's House of Dreams next and then once I have finished it I will be reading
The Knife of Never Letting Go which I tried to read a few days ago but couldn't get into the story so I am going to try again. Then I plan on reading
The Talisman Ring finally
and then hopefully once Clare has finished it I will be able to read Mechanica.
Clare:
Currently Reading:
""I don't quite see," she answered, "where in particular it strikes you that my danger lies. I'm not conscious, I assure you, of the least disposition to 'throw' myself anywhere. I feel that for the present I've been quite sufficiently thrown."- Page 34, The Wings of the Dove by Henry James
"Her boots squished something too soft for comfort, and she repressed a shudder as the woman stopped before the entrance to another long tunnel, the first half illuminated by moonlight streaming in through the scattered grates. Unnatural darkness drifted out from the far end. A predatory stillness crept over Aelin as she peered into the gloom. Silence. Utter silence." - Page 34, Queen of Shadows by Sarah J. Maas
The Wings of the Dove is set in England in (I believe) the 1800's. And whilst I would give almost anything to wear one of those hats with a veil (seriously, I want one) and gloves and use all those etiquette lessons I taught myself when I was a child, for unknown reasons, I am not certain the lack of rights would have agreed with me. Although so far Kate has expressed some vaguely feminist views (which is making me like her more and more).
I really don't want to live in the world of Throne of Glass. I mean, again, I like the style but I am not sure I approve of all the uncomfortable living. I think I like my modern world and my cell phone too much to sacrifice them. Plus, much as I love Celaena, I don't think I could make it as an assassin for a second. She is way tougher than me.
Recently Finished:
I recently finished Only a Kiss by Mary Balogh, I think there is one more book after this to be released although I am not entirely sure. This was a good addition to the series and I thoroughly enjoyed it. I then moved on to The Brigadier's Runaway Bride which I received for review from Netgalley, and I will have a review up on my goodreads page for anyone that may be interested - you can find a link to my goodreads at the bottom of the page. And then of course I read Heir of Fire by Sarah J Maas so that I could move on to Queen of Shadows.
Planning to Read Next:
Next I am planning to read A Court of Thorns and Roses whilst I am still in the Maas bubble. I meant to read this straight away when it was released and then I got put off by the hype, which always seems to happen. And then I will be continuing the fairy tale theme with Mechanica by Betsy Cornwell since my copy has (finally) arrived. I've heard some good and some not so good things about this so I am not sure what to expect but it's a relatively short book so I should finish it quite quickly.