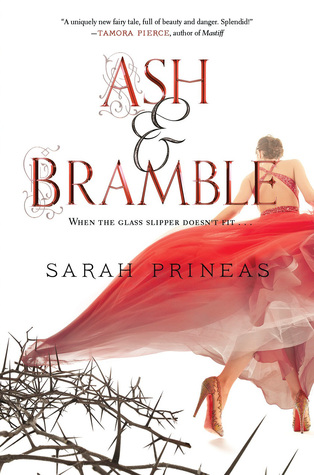 Title: Ash & Bramble
Author: Sarah Prineas
Series: No
Pages: 449
Format: Hardcover
Rating: 4/5
Blurb: (from Goodreads)

A prince.

A ball.

A glass slipper left behind at the stroke of midnight.
The tale is told and retold, twisted and tweaked, snipped and stretched, as it leads to happily ever after.
But it is not the true Story.
No one has ever broken free of the Godmother's terrible stone prison until a girl named Pin attempts a breathless, daring escape. But she discovers that what seems to be freedom is a prison of another kind, one that entangles her in a story that leads to a prince, a kiss, and a clock striking midnight. To unravel herself from this new life, Pin must choose between a prince and another—the one who helped her before and who would give his life for her. Torn, the only thing for her to do is trade in the glass slipper for a sword and find her own destiny.
"Your stories are about good people finding happiness, about bad people getting what they deserve, and most of all, you tell about true love. Your stories make the fire burn brighter; your stories push back the darkness."
I love fairy tale retellings. I love fairy tales in general. But if there is one fairy tale I feel less than enthusiastic about it's Cinderella. I mean, come on, if the Prince can only tell who you are by your shoe size he is not a keeper. But this book wasn't really like that. Although at heart it was a Cinderella story there were a number of other fairy tales woven within it and, more importantly, it was it's own story.
Pin was a confusing character for me. I found that at times I loved how resourceful and strong she was and then she'd act in a selfish or casually cruel way and then I fell a bit out of love with her again. The first half of this book was splendid because Pin was the hero, she was the rescuer and the planner and the one saving others. Shoe was a great character because he was very determined and kind but I never really bought into their love. Later, with the Prince we're expected to shake our heads and deny that there is even a chance it could be real love because "they hardly know each other". But in reality, Pin and Shoe don't know each other either. He essentially fell in love with her because she was brave enough to escape and she... well actually I'm not entirely sure why she fell in love with him. Not that he didn't deserve it but because she essentially saw him across a room and then realised she couldn't leave without him and would sacrifice herself to save him.
That said, in pantomime Cinderella it has always seriously annoyed me that Cinderella chooses the Prince who can't even recognise her over poor Buttons who has loved her forever. And Shoe was essentially Buttons - so I should probably be happy. The Prince was fairly different here. He was a good guy, he treated people well, he was honorable and chivalrous and ... ever so slightly boring. It wasn't his fault that he thought himself in love with Pin but he was fairly annoying about it. And his constant insistence that Pin needed rescuing became more and more ridiculous as it became more obvious that she was perfectly capable of rescuing not only herself but everyone around her as well.
The best thing about Ash & Bramble was the role reversal. The Godmother was the bad guy (sort of), the Witch was good. The ugly step-sisters were neither ugly nor really evil. Even the step-mother was sympathetic by the end. Since the true villain of this book was Story and not the Godmother it actually became more difficult to see a way of beating it. A person can be beaten, a concept or a vague magical entity cannot so easily. I liked the ending of this book but I felt like the world building, in particular the explanations for the magical elements (such as the thimbles) were slightly lacking. I'd love to know where the thimbles came from, how they work - more about the Godmother.
Ash & Bramble was an excellent fairy-tale retelling and an excellent story in it's own right. And Pin is the kind of character I am always looking for, I loved how she was the leader, the fighter, how when the Prince insisted she would have to choose between him and Shoe she told him that actually she could pick neither. I liked the teasers of other people's stories, particularly in the rebel camp and I would love there to be a companion about one of them. Or about someone else entirely. And if there is - I would really love for more of an explanation about how the magic works. If, like me, you love fairy tales or stories in which villains are good and good guys are bad, or just really strong heroines, then you should definitely try this book.
""You're Shoe's Pen, are you?"
"I'm my own Pen, thank you," I answer."