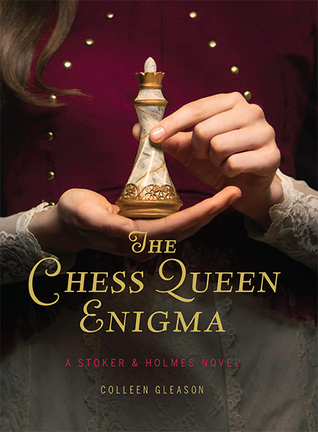 Title: The Chess Queen Enigma
Author: Colleen Gleason
Series: Stoker & Holmes #3
Pages: 351
Format: Hardback
Rating: 4/5
Blurb: Evaline Stoker and Mina Holmes have reluctantly agreed to act as social chaperones and undercover bodyguards for Princess Lurelia of Betrovia, who has arrived in London to deliver a letter that details the secret location of an ancient chess queen that's been missing for centuries. But when the letter—which will heal a centuries-old rift between England and the Betrovians—is stolen out from under Evaline and Mina's watchful eyes, the two girls are forced into a high-stakes race to ensure they find the chess queen before anyone else does.
"Nothing. I heard nothing but the normal, mechanical sounds of the city at night, saw nothing but the random golden circles of gas lamp streetlights, felt nothing but the normal shift in the air ... and the strong, silent power of his grip."
I read the first two books in this series quite a while ago so I was worried I would struggle to get back into the story, luckily this was not the case. Although I had forgotten a few of the plot points I was soon reminded of them and it was effortless to get back into the world Colleen Gleason has created.
I like the steampunk genre but I often find I have a lot of problems with individual books within it, however I really love how this world is revealed and all the details of the technology and the society. At times I forget that it is a fictional version of history - it is written so well that I start to believe in it as a reality. I do sometimes wish that vampires played more of a part in the story - although they are present they were more of a secondary threat in this novel and apart from a couple of scenes they didn't really get much time to menace the heroines! The atmosphere in this novel was just as great as in the previous ones, Colleen Gleason does a marvelous job of drawing you into her world.
Mina and Evaline are two of my favourite characters. Apart they are badass and intelligent but together they become even more impressive and I love their interactions. I would say I preferred their interactions in the first two books to those in this book - I feel like they almost took a step back in terms of respecting each other. Mina especially can be quite dismissive of Evaline which does annoy me at times. Evaline is definitely the more immediately sympathetic character. But Mina does grow on you, and although I didn't always like how she behaved in this book I was totally rooting for both of them throughout.
I am not a huge fan of love triangles, which is a bit of a problem with this series because we have two. Each girl has her own love triangle - which are the most slow to resolve love triangles of all time. The romantic aspect isn't a huge part of the plot, and I do usually like slow burn romances best, but it has taken Evaline and Mina three books to come close to making a decision and even then they haven't really made a decision so much as one was made for them. I don't know how long this series is going to be but hopefully the romantic element is resolved soon so it doesn't take up too much time. The side characters got more development in this book which I definitely liked, I especially like Pix and Inspector Grayling. I have never really liked Dylan although he was at least useful towards the end of the book - he will still never be my favourite.
The mystery in this book was not as compelling as in the first two, I found there were characters whose motives were fairly obvious from the beginning and it surprised me that Mina with her excellent deductive skills would fail to notice. There were also a few clues that seemed like they were meant to fall into Mina's hands, so whilst she was congratulating herself on figuring it out I was thinking how very convenient it was. I did like the ending to the book it definitely left me wondering and excited for the next book in the series. There was a lot of action in this and it definitely kept me turning the pages.
I do think it's a shame that more people haven't read this series, I definitely always enjoy the books and I really love the character development and getting to know Mina and Evaline more with each book. I enjoyed it a lot and I am looking forward to the next one!