Every Wednesday we are linking up with WWW Wednesday.
WWW Wednesday is hosted at
Taking on a World of Words
and asks 3 questions: What are you currently reading?, What did you recently finish reading? What do you think you'll read next? You can click any of the images to go to the Goodreads page for that book!
Currently Reading:
I am nearly finished with The Edge of Everything by Jeff Giles which I am really enjoying. I am buddy-reading this with Genni at Ready, Set, Read. I do think Jeff Giles could have been a bit bolder with X's character (I just prefer anti-heroes I guess) and the romance definitely borders on insta-love but there are superb mother figures which I love! I am also reading The Ways of the World by Robert Goddard which is set just after WW1 and is really interesting. It's a bit of a thriller and hasn't really got going yet (I am only a few chapters in) but it's going a good direction and I am confident I will enjoy it. I also really want to properly finished Displaced over the next week. It's set just after WW2 (apparently post-war is really interesting to me right now) and it's so good so far, I wasn't in the right mood when I started but I am definitely more into it now and excited to finish.


Recently Finished:
It took me a long time to read The Forbidden Wish because I was just savouring the writing. It was so beautifully written and the characters felt very real and human (even the not-so-human Zahra). I did think the plot got a little messy/rushed towards the end but overall it left me with a smile on my face and I can't wait to read more by Jessica Khoury. After the Last Dance was not what I was expecting. Leo and Jane weren't initially the most likable characters in the world but by the end I was totally rooting for happiness and I almost, almost teared up a bit at last two chapters. The Lazarus Vault was pretty much what I expected. The story did drag a little in the middle but for the most part I enjoyed it. Undercover was hugely disappointing. I've never read anything by Danielle Steel before but I really expected better. The writing was bad, I didn't much care about the characters and the two MCs didn't even meet until over 200 pages in (to a 300 page book), so asking me to care about their romance was a stretch.
Planning to Read Next: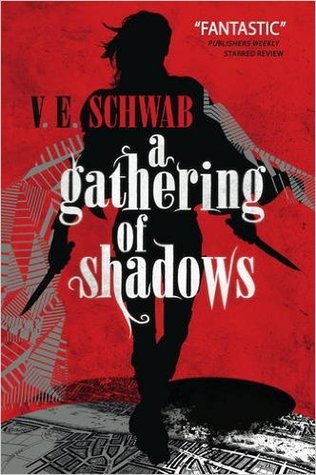 I know what I am reading next (for a change) because I will be starting the Shades of Magic series by V.E. Schwab on Friday with Veronika at Regal Critiques. I've heard so many good things about this series and I love buddy reading so I am pretty excited!