The Sunday Post is a weekly meme hosted at
Caffeinated Book Reviewer
,
it's a chance to post a recap on the past week, show the books we have received and share what we plan for the coming week. Stacking the Shelves is hosted by Tynga's Reviews and the aim is to show our newest books and to see what everyone else received for review, borrowed from libraries, bought in bookshops or downloaded on to their e-reader. As always you can click on any of the pictures to be taken to the Goodreads page for that book if you're interested in finding out more about it or click the title to go to the review.
This week I almost wrote another movie review but I was so frustrated with the film I couldn't even get my thoughts out. The film was The Forest and if you've also seen it let me know what you thought of it? I got so annoyed with the characters decision making and just everything in general. Poor Vera @ Regal Critiques let me basically message her constantly throughout the film with my frustrations (and totally spoil it for her in the process) so thank you to her for preventing me from going crazy!
Next week is my birthday and I am actually super excited! My brother is coming back to visit (just for dinner) and I can't wait to see him!
Last Week on the Blog:
Books We Got This Week: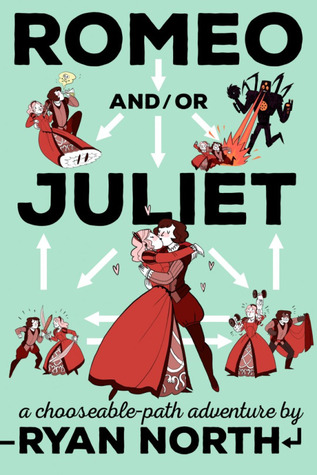 Can't Buy Forever by Susan Laffoon: Many thanks to the author who sent me a copy for review! This looks really interesting and I definitely want to read it soon.
Gone Without a Trace by Mary Torjussen: This was sent to me by the author for review and I will be taking part in a blog tour for this later in the month as well - I am so excited to read it! I've been really in the mood for twisty thrillers lately and this sounds incredible.
Romeo And/Or Juliet by Ryan North: This will be re-readable as heck. I LOVE choose your own path things (basically any game where my decisions affect the ending is something I NEED) so this sounds perfect for me. Plus I heard there was one ending where Juliet becomes a spinster pirate? Or something? And that just - I need it!!
Reading Update:
Ann:

Clare:
A Darker Shade of Magic by V.E. Schwab: 4.5 stars, This was great, I loved Kell and Lila and there was the beginning of some good world building. The magic system is really interesting. I am excited to read the rest of the series although I didn't feel like I had to read the next one straight away.
The Ways of the World by Robert Goddard: 3.5 stars, This was surprisingly slow. There are some things that I felt were super obvious and waiting for Max to figure it out was excruciating but I was very intrigued by the book as a whole even if there were parts where the pace got too slow. Again, I don't feel desperate to pick up the next book yet although I have the whole series, but I do want to finish it at some point.
A Perilous Undertaking by Deanna Raybourn: 4 stars, I just love Raybourn's characters so, so much. Veronica is a great character, so complex and interesting and totally unflappable and I love her. The mystery was slightly easier than I wanted it to be but overall I really enjoyed this!
Daughter of the Pirate King by Tricia Levenseller: 4.5 stars, Just so much fun. I finished it in two sittings and I was thoroughly engrossed with the plot and in love with Alosa. She was such a great character and I am very much looking forward to the next book!
Romeo and/Or Juliet by Ryan North: 4 stars, When I say "finished" I mean "finished for now". With so many possible story lines and outcomes its pretty much impossible to tell when you've covered them all so I'm not even going to try. I did a few Juliet play throughs (or should that be read-throughs?) and spent a nice couple of hours enjoying them. This is a fun read and I definitely want to revisit and try for some more of the endings later.
Next Week on the Blog:
Cover Characteristic: New York City
Top Ten Books on My Spring TBR
Wednesday Catch-Up
Top 5 Books I Felt Betrayed By
Clare Reviews: The Courage of a Samurai by Lori Tsugawa Whaley
Friday Reads
Ann Reviews: Deathcat Sally by P.S. Brooks