As a reader so much of my life revolves around books - so why not imagine a world in which fictional characters and worlds really exist and have significance to you? Note - I adore my real family and absolutely would not want to replace them.
Who Would Be Your Father?
Valek from Poison Study by Maria V. Snyder. Clearly the wrong age but I feel like he'd make such a good father with the right balance of protectiveness and encouraging me to protect myself.
Who Would Be Your Mother?
The mother from The Edge of Everything by Jeff Giles because I loved her. She was so great. And its so rare to find good parent figures in books - which I am really noticing now that I've had to name some?
Who Would Be Your Sister?
Nemesis from The Diabolic by S.J. Kincaid. Because she is a badass sister. Sidonia is actually a fair bit like me and Nemesis was a great sister to her so I feel like it would be a good fit!
Who Would Be Your Brother?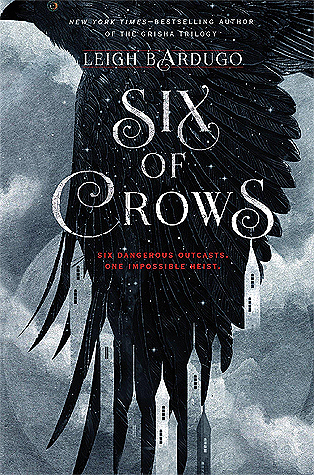 Kaz from Six of Crows by Leigh Bardugo. I am building one heck of a terrifying family here. But yeah - he actually reminded me a lot of my brother when I was reading. And I just love him a lot.
Who/What Would Be Your Pet?
OMG. Um... dragons? Dragons. I want dragons.
Where Would You Live?
I think I want to live in this world but with magic. Fantasy worlds always seem so terrifying (and often very historical in terms of feminism and such) so I kinda want to stay here and just have a magical life.
Where Would You Go to School?
Hogwarts. Are there other fictional schools? OK, just to name something that isn't Hogwarts I will go with St. Clares (Enid Blyton) because I loved those books as a kid and would have killed to have those midnight feasts and camaraderie.
What Would Be Your Fictional Job?
Ooh I want to be a librarian. And I know librarian is a real job but I mean like the ones in The Invisible Library by Genevieve Cogman. I want that.
Who Would Be Your Best Friend?
I want Alex from The Female of the Species by Mindy McGinnis. As wonderful and strong and protective as she is I kept wanting to take care of her and mother her.
Who Would Be Your Significant Other?
Ari from The Alchemists of Loom. Its so freaking hard to narrow this down out of all the fictional characters ever but I just finished reading it (and loving it) so Ari was already in my mind.