The Sunday Post is a weekly meme hosted at
Caffeinated Book Reviewer
, it's a chance to post a recap on the past week, show the books we have received and share what we plan for the coming week. Stacking the Shelves is hosted by Tynga's Reviews and Showcase Sunday is hosted by Books, Biscuits and Tea and the aim is to show our newest books and to see what everyone else received for review, borrowed from libraries, bought in bookshops or downloaded on to their e-reader.
This week we had a bit of a slow start, due to various un-blog related issues we weren't able to post anything for the first half of the week so we didn't get a whole lot done.
Last Week on the Blog:
Books We Got This Week:
Insanity by Cameron Jace: We found this for free on kindle and got it straight away. There are sequels but we just want to try the first one out at the moment, but Alice in Wonderland re-telling's are usually a definite win.
All the Rage by Courtney Summers: Received from Netgalley, I have loved everything of Courtney Summers' that I have read so far and I have been really looking forward to this one.
The Space Between Heartbeats by Melissa Pearl: Received from Netgalley, A beautiful cover so I am hoping the story follows suit.
The Singular & Extraordinary Tale of Mirror & Goliath and The Contrary Tale of the Butterfly Girl by Ishbelle Bee: These covers are even prettier in real life. And I peeked inside and the font is formatted so wonderfully, it changes for certain things and noises and I can't even explain it but my hopes are so high for these now. It does seem that they contain some swearing and they are classified as adult fantasy so just be aware of that if you're interested in them.
Lydia's Enchanted Toffee by Neale Osborne: When we were younger my brother and I made up a world where literally everything was made from food or drink. Everything. And this sounds vaguely like that. Plus it has illustrations which I always love.
Reading Update:
Ann:
I didn't really read a lot this week because I was fully focused on reading the Anne of Green Gables series so my finished books this week are: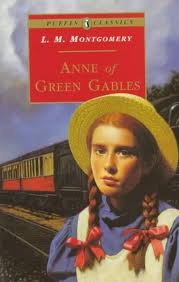 Anne of Green Gables: 5 stars. I finished this book this week and loved it.
Anne of the Island: 5 stars. I was so excited to find out what happens in the third book that I read this in three days.
Clare:
I swear I fully intended to have a great reading week. We just came out of Bout of Books and did so well I was sure I could keep the momentum going. But instead I went kind of off course and started reading regency. Which is what usually happens when I am too tired to read anything else. It's like my comfort food reading. I re-read the Duchess in Love series by Eloisa James and the Wallflower series by Lisa Kleypas as well as the first two books in the Bridgerton series by Julia Quinn. New reads this week were;
The Lady Most Likely... and The Lady Most Willing... by Julia Quinn, Eloisa James and Connie Brockway: 4 stars. I wasn't sure what to expect from these because they're three stories but not an anthology. I found the stories melded into one quite well and I definitely enjoyed all the romances, although I did have my favourites. The Lady Most Willing reminded me so much of Seven Brides for Seven Brothers which has always been one of my favourite musicals. Plus the epilogue for The Lady Most Likely had me in stitches, so much so that I made Ann read the epilogue (she is now annoyed because I wouldn't let her read the whole book).
Mine Till Midnight by Lisa Kleypas: 3 stars. I think I read this a really long time ago but I forget so I'm counting it anyway. This was enjoyable but I thought it was a little thrown together. There was an attempt at mystery or villainy thrown in right at the end and then solved within two pages, but it was a good read anyway.
Seduce Me at Sunrise by Lisa Kleypas: 3 stars. I would have enjoyed this more but I wasn't in love with the main characters.
Classics Update:
We have now both finished our Classics for this month and we will be sharing our final thoughts in our August Wrap Up tomorrow.
Next Week on the Blog:
Monthly Wrap Up & Best of the Bunch with September TBR

Top Ten Characters You Just Didn't Click With

Tuesday Intros and Teaser Tuesdays

Top 5 Wednesday

WWW Wednesday and What Are You Reading Wednesday

Cover Characteristics: Chess Pieces