The Sunday Post is a weekly meme hosted at
Caffeinated Book Reviewer
,
it's a chance to post a recap on the past week, show the books we have received and share what we plan for the coming week. Stacking the Shelves is hosted by Tynga's Reviews and the aim is to show our newest books and to see what everyone else received for review, borrowed from libraries, bought in bookshops or downloaded on to their e-reader. As always you can click on any of the pictures to be taken to the Goodreads page for that book if you're interested in finding out more about it.
Tomorrow I will be going to see Suicide Squad, we couldn't go earlier due to my brothers schedule, but we are very excited to finally see it! Feels like I have been waiting for so, so long. If you've seen it already what did you think of it? Also

Last Week on the Blog:

Books We Got This Week:
Emancipated by M.G. Reyes: The concept of this interests me and it looks like it could be a great summer read so I will hopefully read this soon.
It Ends With Us by Colleen Hoover: I am a bit nervous about this one because I haven't loved her last few books but I have seen a LOT of good reviews - including one that said this was better than any of her other books. So I definitely want to give it a go.
The Star-Touched Queen by Roshani Chokshi: This has been on my I-Need list for a while and I am glad to finally own it!
Harry Potter and the Cursed Child by J.K. Rowling, John Tiffany and Jack Thorne: This is an obvious one. I had been looking forward to this one for so long (in a slightly nervous way).
Sting by Sandra Brown:
Received for review from the publisher, this sounds like a great suspenseful read.
The Silver Tide by Jen Williams: I received this for review from the publisher. This is the third book in The Copper Cat series.
You and Me, Always by Jill Mansell: I received this from the publisher for review. Summer is the time for contemporaries so I am sure I will get to this soon.

Reading Update:
Ann: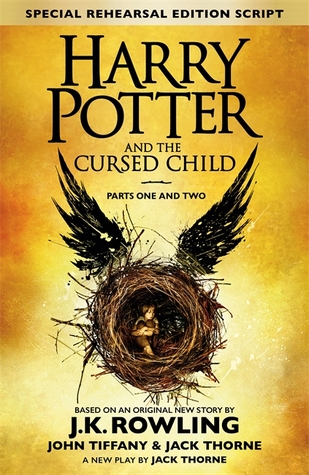 Harry Potter and the Cursed Child by J.K. Rowling:
5 stars, This was as amazing as I had hoped, I loved it. It was also funnier than I expected it to be.

Clare:
Aussie Rules by Jill Shalvis: 3 stars, I enjoyed this but I thought it lacked some of the suspense it could have had.
Harry Potter and the Cursed Child by J.K. Rowling: 5 stars, I loved this so much. I am never able to properly review a Harry Potter book because to me they are so much more than just books - but it was so wonderful to see favourite characters again - and to meet new ones (love Scorpius so much). Just a great, great read.
Summer Shadows by Joss Stirling: 3.5 stars, This wasn't my favourite of the series, but I liked the romance and the characters and its always good to see characters from previous novels. The last few scenes were full of action which was good.
The Rose & The Dagger by Renee Ahdieh: 4.5 stars, This was a very satisfying conclusion to the trilogy. There were plenty of twists and surprises and I really enjoyed the way everything resolved. As always the romance was great.
Assassin's Heart by Sarah Ahiers: 3.5 stars, This wasn't as amazing as I had hoped it would be, but I've read some mixed reviews so I can't be too surprised. I liked the main character and the revenge aspect but I wasn't as fully drawn in as I had hoped to be. Just discovered that this is the first in a series which is surprising because the ending was well resolved but I will probably be continuing the series.
Witch Hunter by Virginia Boecker: 3 stars, Again, slightly disappointing. I just didn't love the characters like I wanted to and whilst the world was a good idea it didn't feel as realistic to me as it could have been. I will probably continue the series as I have an e-arc of book 2 but I may leave it for a while.

Next Week on the Blog:
Cover Characteristic: Smiley Face
Top Ten Villains
Top Ten Books I'd Take on a Desert Island
Wednesday Catch-Up
Top 5 Authors You're Waiting on Another Book From
July Wrap Up and August TBR
Friday Reads