Every Wednesday we are linking up with WWW Wednesday, What Are You Reading Wednesday? and Waiting on Wednesday.

WWW Wednesday is hosted at

Taking on a World of Words

and asks 3 questions: What are you currently reading?, What did you recently finish reading? What do you think you'll read next?
1. What's the name of your current read?
2. Go to page 34 or 34% in your e-book and share one complete sentence.
3. Would you like to live in the world that exists within your book? Why or why not?
Waiting on Wednesday is hosted at Breaking the Spine and is a chance to show what upcoming releases you are excited for! Each week we will take it in turns to choose a book for Waiting on Wednesday and this week was Clare's turn! You can click any of the pictures in the post to go to that books goodreads page.
Ann:
Currently Reading:
I am currently reading Throne of Glass which is amazing. I am also reading The Great Gatsby which is okay but it isn't amazing.
"They rode quickly up the steep hill, the horse jerking and surging beneath her." - Page 34, Throne of Glass
So far I feel like I would enjoy living in this world. I love the descriptions of all the places.
Recently Finished:
I have recently finished Daisy Miller which I really enjoyed.
Planning to Read Next:
Next I am planning on reading the rest of the Throne of Glass series because I am really enjoying the first book.
Clare:
Currently Reading:
I was making absolutely no progress with The Hunchback of Notre-Dame so I've decided to put it to one side for now and I am instead reading The Beautiful and Damned by F. Scott Fitzgerald. I have a really beautiful copy and it's a relatively short book so hopefully I won't struggle to read it. I am also reading The Widow's Confession by Sophia Tobin. I have only just started it but the first few chapters have been very engrossing and if it wasn't for the fact I needed to sleep I probably would have stayed up all night to finish this already! I am reading Catch Me When I Fall by Vicki Leigh as I have a review copy of the sequel Find Me If You Dare but I am getting through it quite slowly, it's good but for some reason I'm just not reading it very fast.
"But it was cold outside, with wind around the edges of the tall buildings and December just up the street, so better far an evening together under the soft lamplight and a drink or two of Bushmills, or a thimbleful of Maury's Grand Marnier, with the books gleaming like ornaments against the walls, and Maury radiating a divine inertia as he rested, large and catlike, in his favourite chair." - Page 34, The Beautiful and Damned
I am not sure I'd want to live in any of these worlds. I'd love to visit The Beautiful and Damned, I feel like it would be fun for a while but might not be great long term. In The Widow's Confession at least one woman gets murdered and I'd rather not be so that's out. And in Catch Me When I Fall there are nightmare creatures that try to drive you mad in your sleep and invisible people guarding over you. And I don't care if they are guardians, people watching me sleep without my knowledge would creep me out a lot.
Recently Finished: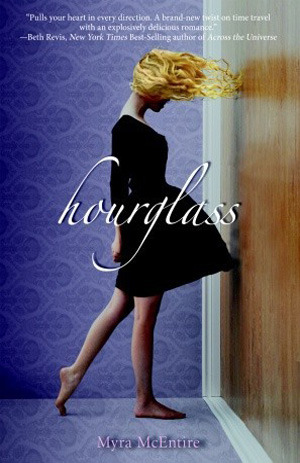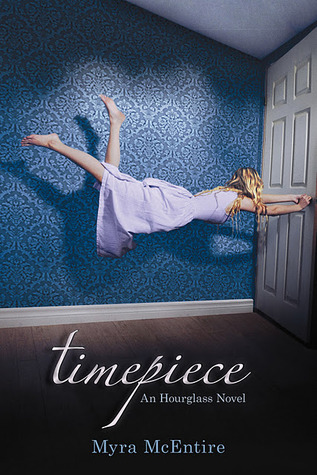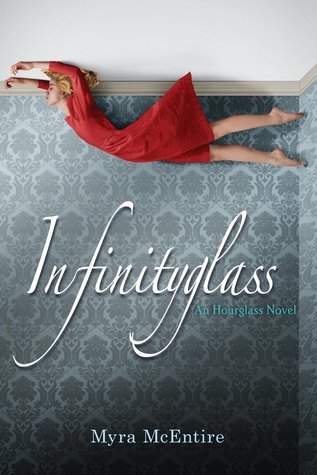 I finished reading Hourglass by Myra McEntire last Wednesday and really enjoyed it. I have a full review for it posted here. I also read the sequels Timepiece and Infinityglass which I likewise enjoyed. It was a really fun series and I have reviews for the second and third books here and here. Since I had a really slow reading week, for me I then read a comic book The Infinite Loop which I enjoyed although much of the time travel went over my head. And then finally I read The Beekeeper's Daughter by Santa Montefiore last night. It was a very quick and easy read and I did like it although I preferred other of her books that I have read.
Planning to Read Next:
I have heard great things about Vengeance Road and I am very excited to read a Western. I did read Walk on Earth a Stranger a little while ago but I feel like this is a whole grittier story. I then want to read How We Fall by Kate Brauning which I am both nervous about and intrigued by. I think this has the potential to be either great or horribly disappointing and I am hoping it is the first. And Need by Joelle Charbonneau is one I am very excited to read soon, I have heard good things about this one as well.
Waiting on Wednesday:
And I Darken by Kiersten White
NO ONE EXPECTS A PRINCESS TO BE BRUTAL. And Lada Dragwlya likes it that way. Ever since she and her gentle younger brother, Radu, were wrenched from their homeland of Wallachia and abandoned by their father to be raised in the Ottoman courts, Lada has known that being ruthless is the key to survival. She and Radu are doomed to act as pawns in a vicious game, an unseen sword hovering over their every move. For the lineage that makes them special also makes them targets.
Lada despises the Ottomans and bides her time, planning her vengeance for the day when she can return to Wallachia and claim her birthright. Radu longs only for a place where he feels safe. And when they meet Mehmed, the defiant and lonely son of the sultan, who's expected to rule a nation, Radu feels that he's made a true friend—and Lada wonders if she's finally found someone worthy of her passion.
But Mehmed is heir to the very empire that Lada has sworn to fight against—and that Radu now considers home. Together, Lada, Radu, and Mehmed form a toxic triangle that strains the bonds of love and loyalty to the breaking point.
Clare: A brutal princess, vengeance, strained love and loyalty. This just sounds like it could be very interesting to read. Also, anything that's compared to Game of Thrones, Graceling and An Ember in the Ashes is definitely on my TBR! This will be released on June 28th.