Every Wednesday we are linking up with WWW Wednesday, What Are You Reading Wednesday? and Waiting on Wednesday.

WWW Wednesday is hosted at

Taking on a World of Words

and asks 3 questions: What are you currently reading?, What did you recently finish reading? What do you think you'll read next?
1. What's the name of your current read?
2. Go to page 34 or 34% in your e-book and share one complete sentence.
3. Would you like to live in the world that exists within your book? Why or why not?
Waiting on Wednesday is hosted at Breaking the Spine and is a chance to show what upcoming releases you are excited for! Each week we will take it in turns to choose a book for Waiting on Wednesday and this week was Ann's turn! You can click any of the pictures in the post to go to that books goodreads page.
Ann:
Currently Reading:
I am currently reading the second book in the Throne of Glass series which I am enjoying cause I love the main character. I am also reading The Great Gatsby which I am nearly finished but not enjoying it.
"Celaena adjusted the position of her legs and rolled her neck." - page 34 Crown of Midnight
Recently Finished:
I have recently finished Username Evie which I really loved because I could relate to the main character.
Planning to Read Next:
Next I am planning on reading Sandrider which Clare got me and I am very excited to read.
Clare:
Currently Reading:
I am currently reading Silver Phoenix by Cindy Pon which I am really enjoying, this is more or less everything I wanted from Soundless and didn't get. I know there is a sequel/companion but I am not sure yet whether I will buy it, we will see what I think by the end of the book. I am also reading How to Survive a Sharknado which is swiftly becoming one of my favourite books. It's perfect for me since I love not only the Sharknado film but all films of that kind!
"When volcanoes erupt, they typically release hot gas, debris, and lava. During a beeclipse, however, volcanoes launch something quite different into the air: billions of gigantic honeybees." - Page 35, How to Survive a Sharknado
I am not certain I'd want to be living in either of these worlds. Things seem pretty terrible for women in the Silver Phoenix world. And I don't especially want Sharks flying at my head. Although at least now I know that if that happens, I'm prepared!
Recently Finished:
I managed to read three more Christmas books before Christmas day. I enjoyed Married by Christmas and The Night Before Christmas by Scarlett Bailey - they were really light and put me in the Christmas mood. However The Winter Wedding slightly let me down as I couldn't connect to the writing style or the character. After Christmas I read How to Seduce a Scot as I was looking for something really light and easy and I definitely got that. It's not the best romance I've ever read but I did enjoy it and I will probably be continuing on with the series. I felt The School for Good and Evil was a good concept and well carried off but it may have been just a bit too young for me. I have passed the books on to my sister as I think she may enjoy them more than I did. I also finished Shadow Study by Maria V. Snyder which I loved, I don't know why it took me so long to get around to reading it but this is one amazing series and I loved being back with Yelena and Valek. I am very excited for Night Study to be released.
Planning to Read Next: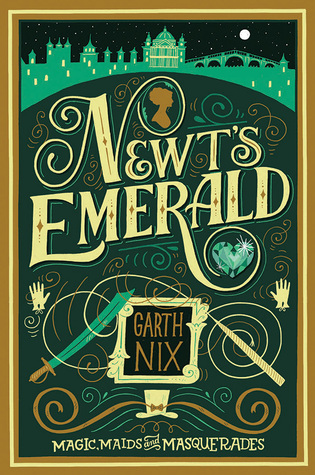 I have so, so many new books at the moment thanks to Christmas money and I am hoping to make a start on them soon. I want to read The Rogue Not Taken first because I love Sarah MacLean's books and I feel like this will be a fun, quick read and then I am aiming to move on to Sorcerer to the Crown, Newt's Emerald and The Rook. I haven't heard much, either good or bad, about any of these so I am going in a little blind which I kind of like!
Waiting on Wednesday:
Reign of Shadows by Sophie Jordan
Seventeen years ago, an eclipse cloaked the kingdom of Relhok in perpetual darkness. In the chaos, an evil chancellor murdered the king and queen and seized their throne. Luna, Relhok's lost princess, has been hiding in a tower ever since. Luna's survival depends on the world believing she is dead.
But that doesn't stop Luna from wanting more. When she meets Fowler, a mysterious archer braving the woods outside her tower, Luna is drawn to him despite the risk. When the tower is attacked, Luna and Fowler escape together. But this world of darkness is more treacherous than Luna ever realized.
With every threat stacked against them, Luna and Fowler find solace in each other. But with secrets still unspoken between them, falling in love might be their most dangerous journey yet.