Every Wednesday we are linking up with WWW Wednesday, What Are You Reading Wednesday? and Waiting on Wednesday.

WWW Wednesday is hosted at

Taking on a World of Words

and asks 3 questions: What are you currently reading?, What did you recently finish reading? What do you think you'll read next?
1. What's the name of your current read?
2. Go to page 34 or 34% in your e-book and share one complete sentence.
3. Would you like to live in the world that exists within your book? Why or why not?
Waiting on Wednesday is hosted at Breaking the Spine and is a chance to show what upcoming releases you are excited for! Each week we will take it in turns to choose a book for Waiting on Wednesday and this week was Ann's turn! You can click any of the pictures in the post to go to that books goodreads page.
Ann:
Currently Reading:
I am currently reading Bloodlines by Richelle Mead which I am loving because ADRIAN is in it. I am also reading The Turn of the Screw which is a very good book.
"I wondered why she should be scared." - Page 34, The Turn of the Screw
"He raised his eyebrows, clearly pleased, and gave me a rough pat on the shoulder. It was the closest he'd come to real affection in a while." - Page 34, Bloodlines
I would love to live in the Bloodlines world because it sounds wonderful and I'd love the hang out with the dhampirs, and of course Adrian. I would not want to live in the Turn of the Screw world. A bit too creepy for me.
Recently Finished:

Next I am planning on continuing the Bloodlines series by Richelle Mead which should be good.
Clare:
Currently Reading:
I am currently on page 87 of The Hunchback of Notre-Dame and I am definitely enjoying it. As much as I enjoy Henry James I am glad I picked a non-James book out of TBR jar this month. I have also just started The Impersonator by Mary Miley, which I am intrigued by but slightly unsure whether I will like it and Velvet Undercover by Teri Brown which I have been really excited for ever since I got it!
"The door of the reserved gallery which had hitherto remained so inopportunely closed, opened still more inopportunely; and the ringing voice of the usher announced abruptly, 'His eminence, Monseigneur the Cardinal de Bourbon." - Page 34, The Hunchback of Notre-Dame
"Oliver's photographs brought that same tingle of electricity I had experience the first time I saw his small image of Jessie at our dinner in Omaha." -Page 34, The Impersonator
"Captain Parker didn't give me instructions about that. He just handed me a packet and told me a motorcar would be picking me up at five a.m." - Page 34, Velvet Undercover
I am not sure that I'd want to live in either of these book worlds. They both seem like they could be horribly dangerous to me. I think I'd make a good spy in theory as long as I never had to do any of the action stuff. I could be an observational spy? But I don't think I'd be great in the Hunchback of Notre-Dame at all. Not sure what I could contribute.
And whilst I like the 20's in theory (and definitely in literature) I don't think I'd like living there, so The Impersonator is out too!
Recently Finished:
I was expecting Delia's Shadow to be creepy. I was not expecting it to completely deprive me of sleep for the night! This was very unsettling and scary. But the romance was very sweet and I did enjoy reading it. I then read This Monstrous Thing by Mackenzi Lee which I liked although I wish it had been just a little bit darker! I have a full review for it here. Then I finally read Never Never which has been moving up and down my TBR for ages - I liked it and I definitely now have more sympathy for James Hook. This was kind of a depressing story but a good one. Then I read A Thousand Nights which is one of the most physically beautiful books I have ever seen. I really liked it. Not perhaps as much as I adored The Wrath & The Dawn but still it was so beautifully written and compelling. I actually found Miss Peregrine's Home for Peculiar Children a little disappointing. I mostly enjoyed it but I didn't love the main character and I found the romance so awkward. And it just wasn't as creepy as I wanted it to be. Which is probably my own fault more than the books. I then read the Swanlea Spinsters series by Sabrina Jeffries which I enjoyed although her writing has definitely improved since she wrote these, her more recent books are much more assured.

Planning to Read Next:
I am planning to fill my contemporary craving next and read some review books whilst I am doing it! I received Outspoken from the author and I am super excited for it! I got This Raging Light from Netgalley, I have heard mixed things but I am still intrigued. I've been horribly lazy this last week and despite reading 12 books I only wrote 1 review! So it will definitely be good to get back into writing them. I have a few other review books to read after these as well. I also realised I have a lot of fame/romance contemporaries that I haven't read yet so I will be reading them and seeing how they compare, they are For the Record by Charlotte Huang, Someone Else's Fairytale by E.M. Tippetts and Famous in Love and it's sequel Truly, Madly, Famously by Rebecca Serle. I have heard good things about all of these so I am excited to get reading!
Waiting on Wednesday: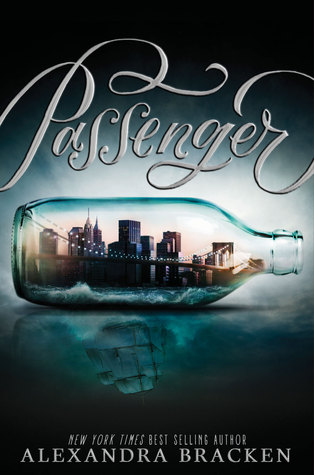 Passenger by Alexandra Bracken
passage, n.
i. A brief section of music composed of a series of notes and flourishes.
ii. A journey by water; a voyage.
iii. The transition from one place to another, across space and time.
In one devastating night, violin prodigy Etta Spencer loses everything she knows and loves. Thrust into an unfamiliar world by a stranger with a dangerous agenda, Etta is certain of only one thing: she has traveled not just miles but years from home. And she's inherited a legacy she knows nothing about from a family whose existence she's never heard of. Until now.
Nicholas Carter is content with his life at sea, free from the Ironwoods—a powerful family in the colonies—and the servitude he's known at their hands. But with the arrival of an unusual passenger on his ship comes the insistent pull of the past that he can't escape and the family that won't let him go so easily. Now the Ironwoods are searching for a stolen object of untold value, one they believe only Etta, Nicholas' passenger, can find. In order to protect her, he must ensure she brings it back to them— whether she wants to or not.
Together, Etta and Nicholas embark on a perilous journey across centuries and continents, piecing together clues left behind by the traveler who will do anything to keep the object out of the Ironwoods' grasp. But as they get closer to the truth of their search, and the deadly game the Ironwoods are play­ing, treacherous forces threaten to sep­arate Etta not only from Nicholas but from her path home . . . forever
Ann: This is due for release on 5th January 2016. I love the sound of it and also the cover is amazing! I also really loved her Darkest Minds trilogy.