The Sunday Post is a weekly meme hosted at
Caffeinated Book Reviewer
,
it's a chance to post a recap on the past week, show the books we have received and share what we plan for the coming week. Stacking the Shelves is hosted by Tynga's Reviews and Showcase Sunday is hosted by Books, Biscuits and Tea and the aim is to show our newest books and to see what everyone else received for review, borrowed from libraries, bought in bookshops or downloaded on to their e-reader. As always you can click on any of the pictures to be taken to the Goodreads page for that book if you're interested in finding out more about it.
I have, hopefully, had a great week! Although I am writing this at the beginning of the week because I am going away for a week on Wednesday to visit my best friend and my brother. So if all goes to plan I am having an amazing time when this is posted! I am also certain that Ann has done an amazing job taking care of the blog without me whilst I was gone (thank you Ann).
Last Week on the Blog:
Clare:
Falling for Christmas by Kate Hewitt: I received this for review from Netgalley. I know it's not Christmas yet but can I help it if I feel Christmassy already? Of course not!
Thicker Than Water by Brigid Kemmerer: The ratings for this on Goodreads are ridiculously good so I am very happy I got this from Netgalley.
Inconceivable by Tegan Wren: I was sent this by the publisher Curiosity Quills and I am very excited to read it.
November 9 by Colleen Hoover: This was supposed to arrive the day before I left but unfortunately not, so I can't read it yet.

Winter by Marissa Meyer: I had this delivered to my brother's house so I wouldn't have to wait until I got back to read it. I am ridiculous.
Soundless by Richelle Mead: Unfortunately this was delivered to my home address so I have to wait a few days to read this!


Reading Update:
Ann:
Texts From Jane Eyre: 4.5 Stars, I loved this book it was so funny and I just want to reread it over and over again.

Clare:
Lying Out Loud by Kody Keplinger: 3.5 stars, I really liked this. The DUFF will probably always be my favourite of her books but they are always fun and the characters are always so great. I have a full review for this up here.
Don't Even Think About It by Sarah Mlynowski: 3.5 stars, just really good fun. I am still not sure why they all got telepathy but who cares? It was funny and sweet and I smiled, a lot. What more do I need? My review for this will be up tomorrow.
Bittersweet by Sarah Ockler: 3.5 stars, I really loved #scandal by Sarah Ockler and I was excited for this and I did really enjoy it but I wasn't quite as in love with it as I was with #scandal.
The Book of Broken Hearts by Sarah Ockler: 4 stars, really liked all the characters and the relationships.
Faking Perfect by Rebecca Phillips:
4 stars, Enjoyed this way more than I had expected to. Loved the main character and I was so stressed out hoping things worked out OK for her. Can't wait to read more by Rebecca Phillips.
Between Here and Forever by Elizabeth Scott: 3.5 stars, I loved the voice of the main character but she did annoy me at times. Great romance though.
Far From You by Tess Sharpe:
2.5 stars, I don't want to judge this book really because its one of those that I think is just not for me. But I disliked the main character and just didn't find the mystery compelling.
Hotel Ruby by Suzanne Young: 3 stars, A bit disappointing but had an engaging plot.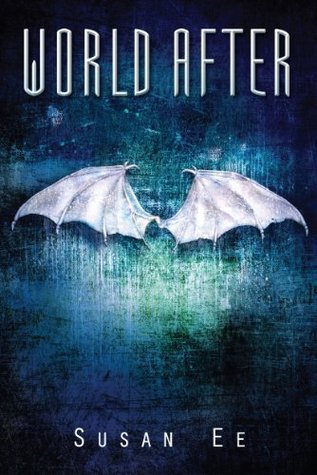 World After by Susan Ee:
4 stars, not as good as the first book but a good addition to the series. I am looking forward to the next book.
Classics Update:
Ann:I haven't read as much as I was hoping to read this much but I have read about 15 pages.
Clare: Since I didn't take this with me I haven't made any progress with it this week.
Next Week on the Blog:
Cover Characteristics: Books
Top Ten Quotes I Loved From Books I Read in the Past Year
Wednesday Catch Up
Top 5 Hunger Games Moments
Friday Reads
Upcoming Reviews:
Don't Even Think About It by Sarah Mlynowski