Every Wednesday we are linking up with WWW Wednesday, What Are You Reading Wednesday? and Waiting on Wednesday.

WWW Wednesday is hosted at

Taking on a World of Words

and asks 3 questions: What are you currently reading?, What did you recently finish reading? What do you think you'll read next?
1. What's the name of your current read?
2. Go to page 34 or 34% in your e-book and share one complete sentence.
3. Would you like to live in the world that exists within your book? Why or why not?
Waiting on Wednesday is hosted at Breaking the Spine and is a chance to show what upcoming releases you are excited for! Each week we will take it in turns to choose a book for Waiting on Wednesday and this week was Clare's turn! You can click any of the pictures in the post to go to that books goodreads page.
Ann:
I am still currently reading Illuminae because Clare got me started on watching the series Buffy the Vampire Slayer and I have been watching a lot of it. I am also reading The Turn of the Screw but I am nearly finished.
Recently Finished:
As I have said I have been watching a lot of Netflix because Clare got me addicted to yet another TV series. So I haven't read anything this past week.
I am still planning on reading the Throne Of Glass series next and am very excited to read them.
"It was gargantuan, a vertical city of shimmering, crystalline towers and bridges, chambers and turrets, domed ballrooms and long, endless hallways." -Page 34, Throne of Glass
I love this description of the Castle I find it so easy to imagine in my head it is like it is right in front of me. I don't think I would want to live in this world though.
Clare:
Currently Reading:
I am just about to start reading Ink and Bone by Rachel Caine which I am definitely intrigued to read. I don't think I've heard much good or bad about it so I'm not sure what to expect but I do love books about books so fingers crossed.
"Jess carefully wrapped the fragile book in waterproof layers, then put it into a smuggling harness." -Page 34, Ink and Bone
Ah yes, book smuggling. Such fun. I find it so weird to imagine a world in which owning books is illegal. I'd be locked up for sure. I am not sure I would want to live in this world. I mean, on one hand, would love to visit the Great Library of Alexandria - that would be amazing. On the other - no owning books. I couldn't do it. Physically impossible.
Recently Finished:
I have had a really slow week reading wise, and it took me seven days to read Winter by Marissa Meyer. I really enjoyed Winter and I am satisfied with how the series wrapped up. I am definitely looking forward to her next series. My review for Winter will be up tomorrow. I then read An Inheritance of Ashes by Leah Bobet which I did enjoy although I had some problems with the world building and the pace of the plot. My review for this will be posted on Friday.
Planning to Read Next:
I have been planning to read Sing Down the Stars ever since it was released and it's just sat on my TBR shelf looking pretty for well over a month so I definitely need to read that next. I also plan to read Soundless by Richelle Mead which I have heard some not so good things about but it's really short so it should be quite a quick read. I am most excited to read Uprooted by Naomi Novik since it's a book I've heard nothing bad about at all. And then I plan to read The Elemental Trilogy by Sherry Thomas which starts with The Burning Sky, I have been wanting to read these since the first book came out but was waiting for the trilogy to be complete.
Waiting on Wednesday: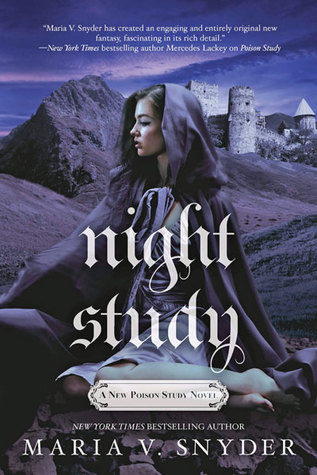 Night Study by Maria V. Snyder
Ever since being kidnapped from the Illiais Jungle as a child, Yelena Zaltana's life has been fraught with peril. But the recent loss of her Soulfinding abilities has endangered her more than ever before. As she desperately searches for a way to reclaim her magic, her enemies are closing in, and neither Ixia nor Sitia is safe for her anymore. Especially since the growing discord between the two countries and the possibility of a war threatens everything Yelena holds dear.
Valek is determined to protect Yelena, but he's quickly running out of options. The Commander suspects that his loyalties are divided, and he's been keeping secrets from Valek…secrets that put him, Yelena and all their friends in terrible danger. As they uncover the various layers of the Commander's mysterious plans, they realize it's far more sinister than they could have ever imagined.
Clare: I love Maria V. Snyder's books and I am beyond excited that there are more Yelena/Valek books because I adore them. I can hardly wait for this! It will be released on the 26th January.