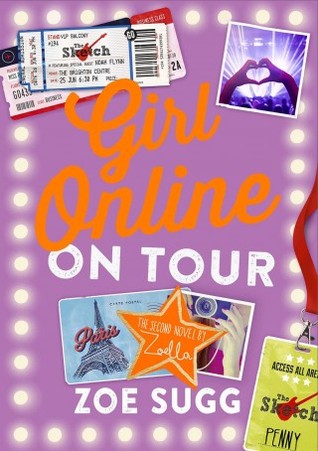 Title: Girl Online On Tour
Author:
Zoe Sugg
Series: Girl Online #2
Pages: 352
Format: Hardback
Rating: 5/5
Blurb:
The sequel to the number-one bestseller Girl Online. Penny joins her rock-star boyfriend, Noah, on his European music tour.
Penny's bags are packed.
When Noah invites Penny on his European music tour, she can't wait to spend time with her rock-god-tastic boyfriend.
But, between Noah's jam-packed schedule, less-than-welcoming band mates and threatening messages from jealous fans, Penny wonders whether she's really cut out for life on tour. She can't help but miss her family, her best friend Elliot . . . and her blog, Girl Online.
Can Penny learn to balance life and love on the road, or will she lose everything in pursuit of the perfect summer?
"Going on tour with Noah was a huge deal."
I loved the first book and was so excited to read this one and it was amazing, possibly better than the first book. My favourite part was the ending because it wasn't a typical ending. Over all this book was brilliant and everyone should read both the first and second book.
I love the main character Penny because she is so brave and even though it is hard for her to go on the tour and everything she does because she wanted to and she wasn't going to let her anxiety from stopping her from doing what she wants to do. I also liked Noah most of the time but there was one point in the book when I thought he was being a very terrible boyfriend. As well as Noah and Penny the other characters in the book were very realistic and I could picture them perfectly in my head.
The plot of this book was brilliant. I loved the ending because it was unusual and not really what I expected to happen. I really liked the fact that the ending wasn't rushed and was really well thought out. And even though the ending was being built up to and you could kind of guess partially what was going to happen at the ending it didn't give away to many details as to what was going to happen. I loved this book so much.
I loved the detail that was put into describing all of the places in this book. All the places that were described sounded so realistic and made me want to go on holiday to all of them. It was brilliant.
Overall this is one of my favourite books that I've read this year and I hope that some of you read it and enjoy it as much as I did. I recommend that everyone read it because it was very well written and also the ending was amazing.