The Sunday Post is a weekly meme hosted at
Caffeinated Book Reviewer
,
it's a chance to post a recap on the past week, show the books we have received and share what we plan for the coming week. Stacking the Shelves is hosted by Tynga's Reviews and the aim is to show our newest books and to see what everyone else received for review, borrowed from libraries, bought in bookshops or downloaded on to their e-reader. As always you can click on any of the pictures to be taken to the Goodreads page for that book if you're interested in finding out more about it or click the title to go to the review.
Films of the Week:
NOT a film (once again breaking the rules of my own post) but I just started watching Girlboss on Netflix and I am LOVING it! I never read the book - which I am now regretting - but I adore Sophia and the show and just everything. I'm about halfway through currently and will definitely have finished it by this time next week! Have you started watching it yet? Have you read the book? Should I read the book??
Last Week on the Blog:


Books We Got This Week:
For Review:
The Wishing Heart by J.C. Welker: Received via Netgalley, this is LGBT and involves theft and who doesn't love a nice bit of theft in their YA? Plus the cover is so pretty!
Den of Shadows by Christopher Byford: Received via Netgalley, AGAIN the cover! Either I am really superficial and won't request/buy books unless they're gorgeous or publishers have been upping their game! Honestly all I know about this is circus. I love the circus. I think I've probably mentioned that a hundred times before.
Seven Days in Summer by Marcia Willett: Received from the publisher for review. This just looks perfect for Summer. I mean there is a beach on the cover, it says summer in the title!! I think I am going to save this for when the sun comes out but it looks great!
Owl and the Electric Samurai by Kristi Charish: All this blurb needed was an "Indiana Jane" and I was hooked. Think I might read this in the summer when I feel like an adventure! Received via Netgalley!
180 Seconds by Jessica Park: Requested this from Netgalley and I am super excited to get to it (hopefully soon but who even knows anymore).
What Goes Around by Julie Corbin: Received from the publisher for review. I am very excited for this one! I've been promised an incredible twist!
The Irregular by H.B. Lyle: Many thanks to Hodder & Stoughton for sending me a copy of this for review. I am so, so intrigued by the spy angle and also the Sherlock Holmes Baker Street Irregulars angle!
The Dragon's Legacy by Deborah A. Wolf: Thank you to Titan Books for sending me this for review. DRAGONS. This book is so gorgeous and it took all my self control not to immediately drop everything and start reading the second it came through the letterbox!
Purchased:
The Tea Planter's Wife by Dinah Jefferies: I've been wanting to try some of Dinah Jefferies' books for a while now. This (and the next two) were in the three for £5 offer at The Works and I happened to get £5 for Easter so it had to happen. This even sounds a little Rebecca-esque which I love.
You Had Me at Merlot by Lisa Dickenson: This book had me at Italy. I'm a sucker for anything set in Italy. I also feel like after Spring Into Horror I'm going to need a lot of romance/happy books to restore my faith in humanity!
All She Ever Wished For by Claudia Carroll: This is the only one of Carroll's books that I haven't yet read. I'm pretty sure this is actually a Christmas read so I don't know whether to save it or just read it?
Missing by Kelley Armstrong: I am a big fan of Kelley Armstrong in all genres (and she has written in pretty much all of them honestly) and this sounds great so I kinda had to.
The Dead House by Dawn Kurtagich: Recommended by Vera @ Regal Critiques. She said she loved this book and I am loving creepy reads at the moment so I went for it!
The Lost Sisterhood by Anne Fortier: Whilst I was busy raving about Fortier's first book Juliet (which was released 7 years ago - and I love it) I noticed she released a second book 3 years ago and so I obviously had to have it! This is about a woman's search for Amazons? I mostly just trust Anne Fortier enough to not need a blurb but Amazons are pretty impressive as well!
Duels & Deception by Cindy Anstey: I'm always in the mood for Historical Romance. And I loved Love Lies and Spies.
Given to the Sea by Mindy McGinnis: Oh boy, I've heard mixed reviews for this one recently. But I trust Mindy McGinnis. I've loved every other book I've read of hers so just, fingers crossed?
Reading Update:
Ann:
Promises I Made by Michelle Zink: 5 stars, I really enjoyed Lies I Told and so Clare brought me this book and it was amazing. The ending was brilliant I loved it. Overall it was a really good book.


Clare: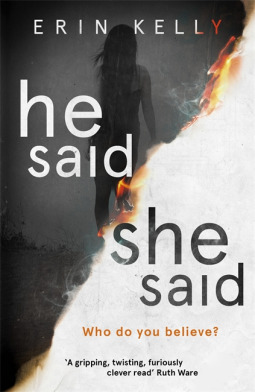 Running Hot by Jayne Ann Krentz: 3.5 stars, Fun but not hugely impactful. I liked that the romance was resolved relatively quickly and the remainder of the book was spent on the mystery element. It wasn't hugely mysterious since we got sections from the "bad guys" perspectives but it was still tense in places.
He Said/She Said by Erin Kelly: 4.5 stars, This was a weird one for me. I both wanted to keep reading non-stop and couldn't because it was too emotionally draining for me. There are major trigger warnings for this book for rape and sexual assault which were upsetting for me. Don't get me wrong Erin Kelly handled them wonderfully it's just always a difficult one. There were so many incredible twists in this and I adored the ending.
Wild Chamber by Christopher Fowler: 4 stars, Why oh why do I keep reading late books in a series I haven't started? I really enjoyed this and loved the characters. The mystery does work alone but also clearly has links to previous books so I'm definitely gonna have to go back and read them all at some point! Can be read as a standalone but I'd really recommend starting at the beginning.
My Sister by Michelle Adams: 3.5 stars, Unsettling and gripping. I was off balance pretty much the whole way through. The characters were fairly unlikable but I was ultimately gripped. My review for the blog tour will be up on the 27th.
Next Week on the Blog:
Monday Highlights #3
Top Ten Book Turn Offs
Wednesday Catch-Up
Blog Tour: My Sister by Michelle Adams
May Releases
Friday Reads
Fairy Loot Unboxing - Dreams & Wishes