The Sunday Post is a weekly meme hosted at
Caffeinated Book Reviewer
,
it's a chance to post a recap on the past week, show the books we have received and share what we plan for the coming week. Stacking the Shelves is hosted by Tynga's Reviews and the aim is to show our newest books and to see what everyone else received for review, borrowed from libraries, bought in bookshops or downloaded on to their e-reader. As always you can click on any of the pictures to be taken to the Goodreads page for that book if you're interested in finding out more about it.
I had a pretty traumatic weekend this week as my phone was stolen! You never realise just how much you depend on it until its gone... But everyone was wonderful, the police were super helpful and the store owner was an absolute hero and my phone company were great. I haven't got my phone back but the man who stole it was arrested so there's that. My replacement phone is on its way and I am sure I will be sleeping fine soon.
Last Week on the Blog:
Books We Got This Week:
With Malice by Eileen Cook: After hearing so much about this book (both good and bad) I had to give it a try. This is another library book - feel like I've been getting those a lot lately, so I am definitely going to have to read it soon.
Miracle on 5th Avenue: Was approved for this on Netgalley and am very excited for it as I loved the first two books in the series.
Shadow Silence by Yasmine Galenorn: Received from the publisher for review. This is the second book in the Whisper Hollow series. I have already ordered a copy of the first book which should arrive next week so I can get reading this series!
Deadly Silence by Rebecca Zanetti: Received from the publisher for review. The buzz for this book has been amazing and I am excited to read it soon. It looks perfect for October.
Christmas in Eternity Springs by Emily March: Received from the publisher for review. This is the 12th book in the Eternity Springs series but you can read them separately which is good as I have only read one other book in this series. The cover is so festive and makes me excited for Christmas.
To Love and to Cherish by Lauren Layne: Received from the publisher for review. The third book in the Wedding Belles series. I really like this cover and I think this should be a good read.
The Courage of a Samurai by Lori Tsugawa Whaley: I was contacted to see if I would be interested in reading and reviewing this and I definitely was. It's a little different from my usual reads but it really intrigues me and I look forward to reading it.
Gemina by Amie Kaufman and Jay Kristoff: I have been so excited for this all year - after Crooked Kingdom this was my most anticipated book of 2016!
If I Was Your Girl by Meredith Russo: This is the first book in the Zoella book club and I am very excited to read it. It looks like a very important and good read.
Reading Update:
Ann: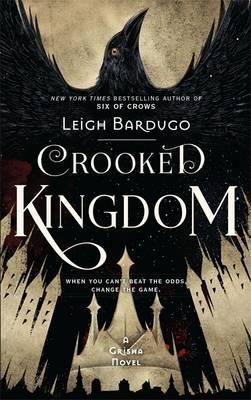 Crooked Kingdom:
5 stars, I loved this book as much as if not more that I loved Six of Crows. I still really love the characters and my favourite is definitely Kaz. Unfortunately this book took me a while to finish so it was all I managed to read.
Clare:
Her Royal Spyness by Rhys Bowen: 3 stars, I really liked the concept of a royal main character and all of the characters had great personalities. But I did feel like the mystery element was a little weak - I was fairly certain of the resolution from very early on which meant there wasn't a lot of suspense. Definitely a fun read though.
A Royal Pain by Rhys Bowen: 3 stars, Actually enjoyed this slightly less than the first one. Still really like the main character but I was less engaged with the story.
A Royal Flush by Rhys Bowen: 3.5 stars, My favourite of the series so far. The ending was fairly obvious but less so than in the previous books and it was more fun getting there. After reading this one I know I definitely want to continue the series!
Murder at the Brightwell by Ashley Weaver: 4.5 stars, This was such a great mystery with truly compelling characters. I really cared about who could have done the murder and it kept me guessing until almost the end when everything started to come together!
Death Wears a Mask by Ashley Weaver: 4 stars, Picked this up straight after the first book and really enjoyed it. I would say, the mystery in this was a little easier to solve but watching the characters solve it was just as entertaining. Can't wait for the third book although I hope Milo and Amery's relationship stays slightly more settled.
Gemina by Amie Kaufman and Jay Kristoff: 4.5 stars, The science aspects towards the end almost lost me for a minute because science is really not my strength. But luckily it was pretty well explained so I just about understood what was going on. I didn't love Hanna and Nik as quickly as I loved Kady and Ezra in Illuminae but they grew on me and I ended up adoring them (especially Hanna)! Looking forward to the next book.
Next Week on the Blog:
Clare Reviews: The Unseeing by Anna Mazzola
Top Ten Halloween Freebie
Wednesday Catch-Up
Top 5 Favourite Spooky Settings
Clare Reviews: Fell by Jenn Ashworth
Friday Reads
November Releases!