The Sunday Post is a weekly meme hosted at
Caffeinated Book Reviewer
,
it's a chance to post a recap on the past week, show the books we have received and share what we plan for the coming week. Stacking the Shelves is hosted by Tynga's Reviews and the aim is to show our newest books and to see what everyone else received for review, borrowed from libraries, bought in bookshops or downloaded on to their e-reader. As always you can click on any of the pictures to be taken to the Goodreads page for that book if you're interested in finding out more about it.
Last Week on the Blog:
Her Royal Spyness/A Royal Pain/A Royal Flush by Rhys Bowen: I have been wanting to read this series for a while and The Works had the first three books in their 3 for £5 deal so I had to grab them!
The Murder at the Vicarage by Agatha Christie: I picked this up at the library as it is the first in the Miss Marple series. Thus far I have only read Christie's Poirot novels so this should be a change.
The Storms of War by Kate Williams:
Last week I got the second book in this series - The Edge of Falling - so I decided to grab the first book as I would love to read this soon.
Murder at the Brightwell by Ashley Weaver: As with above, I got the second book last week and decided to get the first this week. I've heard some great things about this series and I am excited.
The Landower Legacy/The Time of the Hunter's Moon by Victoria Holt: I read one Victoria Holt book, I think a year ago and enjoyed it. My Mum picked these two up for me and I am definitely looking forward to reading them. I read part of the blurb on The Landower Legacy but it was dangerously close to being a summary of the entire book so I am just going to go in blind I think.
Heartless by Marissa Meyer: I was approved for this on Netgalley and I am very excited! I've heard nothing but great things so far and I loved The Lunar Chronicles!
The Midnight Star by Marie Lu: Now I have the complete series I am excited to marathon it! Another one I have heard great things about and I love the covers.
What Light by Jay Asher: Received through Netgalley - I am a huge fan of Thirteen Reasons Why so I am sure I will love this one. It does seem like a Christmas read so I may hold off until December.
Reading Update:
Ann: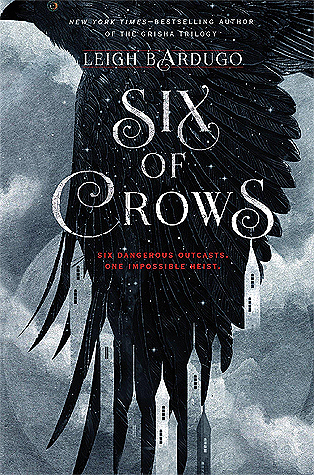 Six Of Crows by Leigh Bardugo: 5 stars, I loved this book so much, it was incredible. I loved every character and my favourite was definitely Kaz, I loved how he wasn't a typically moral character and it was amazing to read a book from the point of view of a "bad" character.


Clare:
A Court of Mist and Fury by Sarah J. Maas: 5 stars, I felt very much hungover after finishing this! It kills me how long we have to wait for book 3. I never liked Tamlin - and now I feel justified rather than being an outlier and finally my love for Rhysand got some payoff which is great! The last few chapters were super eventful!
Do You Want to Start a Scandal by Tessa Dare: 5 stars, I loved this. It was light, and fun but the characters were deep and realistic. I really enjoyed the plot and actually loved the big reveal in the end - it could have gone an entirely different way but this felt perfect. And of course the romance was wonderful!
The Murder at the Vicarage by Agatha Christie: 3.5 stars, Kinda disappointed by the lack of Miss Marple in this but it was a good mystery. Plenty of twists and turns and the vicar was a nice perspective to view the story from. Think I want to read this series in order so need to get my hands on The Thirteen Problems next!
Next Week on the Blog: