The Sunday Post is a weekly meme hosted at
Caffeinated Book Reviewer
,
it's a chance to post a recap on the past week, show the books we have received and share what we plan for the coming week. Stacking the Shelves is hosted by
Tynga's Reviews
and the aim is to show our newest books and to see what everyone else received for review, borrowed from libraries, bought in bookshops or downloaded on to their e-reader. As always you can click on any of the pictures to be taken to the Goodreads page for that book if you're interested in finding out more about it.
Last Week on the Blog:


Books We Got This Week:
None. This is the first week since we started blogging that we have got
no books!!


Reading Update:
Ann: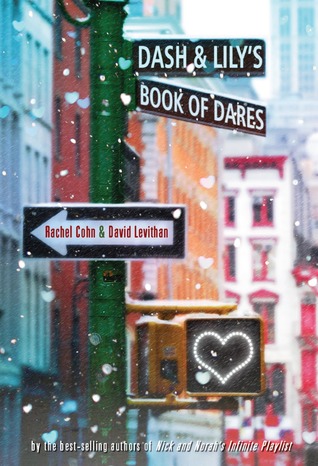 Dash and Lily's Book Of Dares by Rachel Cohn and David Levithan: 4 stars, I really enjoyed this book and I loved the characters, hopefully I will be posting a review soon so if you want to find out more keep an eye out!
Clare:
Miracle on 5th Avenue by Sarah Morgan:
5 stars, Oh god this book! If you want some festive cheer
and
a swoon-worthy romance
and
compelling characters then definitely read this. That last chapter nearly made me cry I was so happy. I just loved it. Full review to come next week (when I will do my best to be more coherent I promise)!
Twelve Days of Christmas by Trisha Ashley:
2 stars, Not a fan, none of the characters felt realistic in the way they talked (especially the MC and her best friend). Also all the romantic relationships felt so odd to me - there was a general ickiness with the main romance (which is kind of a spoiler) and then her Gran married her dead sweethearts father because it "seemed natural". I'm not sure what about that seemed natural but what do I know? Also some pretty cavalier treatment of eating disorders and some body shaming towards Coco.
The Twelve Dates of Christmas by Lisa Dickenson:
2 stars, This was originally published in serial form I believe and it definitely meant the pacing was a bit off for a full length novel. I also feel like this could have been a lot shorter, it started to drag by the end. Claudia was a very annoying character and (personal word choice thing here) I don't like "guffawing" all the time.
The Santa Klaus Murder by Mavis Doriel Hay:
3 stars, This was a fun mystery although I did find myself getting confused with all the character names (there were a lot of characters and some of them had nicknames as well as given names). But the mystery itself was great to figure out.
Christmas Eve at Friday Harbour:
3 stars, This was a really fun, quick read. It didn't feel as festive to me as I was expecting and I would say the romance verged on insta-love if only because it's such a short book there wasn't enough time to properly develop it.
Starry Night by Debbie Macomber:
2.5 stars, Good characters but the romance developed way too quickly for me.
Christmas at Lilac Cottage by Holly Martin:
4 stars, This was funny and charming and romantic. I loved all of the characters and definitely want to read more by Holly Martin.
Next Week on the Blog:
Clare Reviews: Miracle on 5th Avenue by Sarah Morgan
Top Ten Books I Wouldn't Mind Santa Leaving Under my Tree
Wednesday Catch-Up
Top 5 Fictional Items I'd Give as Gifts
Ann Reviews: Dash & Lily's Book of Dares by Rachel Cohn and David Levithan
Friday Reads
Twas the Night Before Christmas Book Tag