Today I'm excited to welcome Kathryn Hughes to our blog! Kathryn is the author of The Letter and her latest novel, The Secret, was published by Headline on 8 September 2016.
Every book has to have a 'baddie' but I think it's important that these characters also have some redeeming features, which make them more rounded, more believable. In
The Secret
, there is no doubt that Trisha Pryce was meant to be cast as a 'baddie', but during the course of writing the character, I actually came to love her a little bit.
She's brash, she's bold, without an ounce of self-awareness, but she's also naïve and vulnerable.
In spite of the fact that she stole another woman's husband right from under her nose, there is no doubt that she really loves Selwyn. Of course, he is totally smitten and can't quite believe that he has landed such a vivacious, buxom beauty as Trisha. She uses this to her advantage though. Selwyn is like putty in her hands, a fact she exploits at every opportunity. Deep down she's insecure and jealous of Selwyn's first wife, Babs. He still maintains a friendly relationship with his ex-wife and they have a daughter together, a bond which Trisha and Selwyn do not share. She never misses a chance to get one over on Babs, draping herself over Selwyn whenever Babs is around. In spite of having youth, good looks and an ebullient personality, her insecurities are never far from the surface.
It is only after what happens to Selwyn that Trisha shows her true colours. It's inconceivable that she would do anything else. She's just too honest.
Whilst the reader may or may not love Trisha, I'm sure everybody will love Mikey. He's a six-year-old boy who has a turbulent home life and yet always seems to have a smile on his face. He loves his mother unconditionally, always making excuses for her failings. He comes from a broken home but idolises his father. His stoicism in the face of extreme adversity belies his age and it became quite painful to write some of the more heart breaking scenes. Whatever I threw at him, he coped with in his own inimitable way. He's bright, clever, questions everything and more than any other character will have the reader rooting for him. He's never physically abused and he himself would say he came from a decent home. After all he's never known any different. It is only when he gets a taste of how things should be that he realises his own mother maybe not be such an angel after all.
About the Book: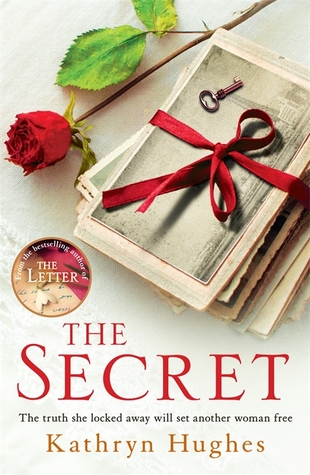 Mary has been nursing a secret. Forty years ago, she made a choice that would change her world for ever, and alter the path of someone she holds dear.
Beth is searching for answers. She has never known the truth about her parentage, but finding out could be the lifeline her sick child so desperately needs. When Beth finds a faded newspaper cutting amongst her mother's things, she realises the key to her son's future lies in her own past. She must go back to where it all began to unlock...
The Secret.
Don't forget to check out the other stops on the blog tour!