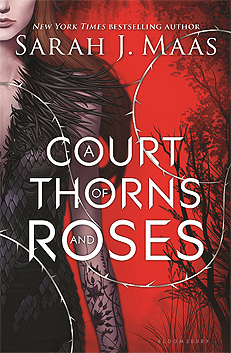 Title: A Court of Thorns and Roses
Author: Sarah J. Maas
Series:
Format: Paperbacks
Source: Purchased
Rating: 5/5
Blurb:
'Feyre's survival rests upon her ability to hunt and kill – the forest where she lives is a cold, bleak place in the long winter months. So when she spots a deer in the forest being pursued by a wolf, she cannot resist fighting it for the flesh. But to do so, she must kill the predator and killing something so precious comes at a price ...
Dragged to a magical kingdom for the murder of a faerie, Feyre discovers that her captor, his face obscured by a jewelled mask, is hiding far more than his piercing green eyes would suggest. Feyre's presence at the court is closely guarded, and as she begins to learn why, her feelings for him turn from hostility to passion and the faerie lands become an even more dangerous place. Feyre must fight to break an ancient curse, or she will lose him forever.'
I only recently read this series for the first time during the summer and I immediately fell in love with it. I have now read it about 4 times and would definitely recommend it to you. Kind of annoyed with myself honestly for not reading it after every time Clare would try and recommend it to me.
One of my favourite things about this book is the main female character who is shown to be so strong and determined in just the first few chapters of the book and you are able to grow to love her more and more as the series continues and as she develops as a character. The main male love interest of this story is how I would imagine a perfect guy could be, he was protective but still let the her do her own thing and knew that she was perfectly capable of protecting herself. However the male love interest in the first book is the kind of man who I really hate, he was so possessive and controlling and just got worse and worse as the series continued doing some not very nice things later on in the series. Its important that this behaviour is shown as toxic as too often "protective" guys are seen as romantic.
The detail and description that went into the world in this series is incredible, I found it so easy to picture the places and the layout of the world and despite its problems throughout the books I would personally love to live in a place anywhere as nice as the fae world described in this series.
I love Sarah J Maas, her writing is amazing and not just in the A Court of Thorns and Roses Series but in her other series also, which I have read and loved almost as much as ACOTAR but not quite. ACOTAR has quickly become one of my favourite series with excellent writing that makes me feel like I am right there with them. My favourite thing about this series is that the description and writing is done in a way that makes me feel more like I am watching a movie than reading a book.
Overall I would definitely recommend you read this book as you will most likely love it, and if you've already read it feel free to comment down below your thoughts on the series or give me any recommendations for something similar I might like, seriously I need something else to read I have reread it so many times I could quote whole sections.