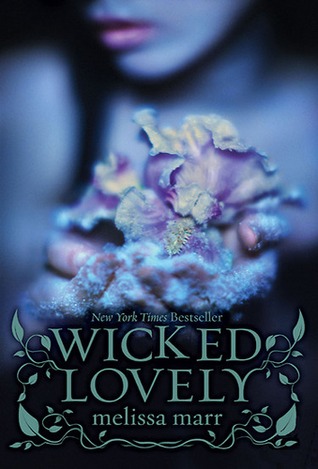 Title: Wicked Lovely
Author: Melissa Marr
Series: Wicked Lovely
Rating: 2/5
Rule #3: Don't stare at invisible faeries.
Aislinn has always seen faeries. Powerful and dangerous, they walk hidden in the mortal world, and would blind her if they knew of her Sight.
Rule #2: Don't speak to invisible faeries.
Now faeries are stalking her. One of them, Keenan, who is equal parts terrifying and alluring, is trying to talk to her, asking questions Aislinn is afraid to answer.
Rule #1: Don't ever attract their attention.
But it's too late. Keenan is the Summer King and has sought his queen for nine centuries. Without her, summer itself will perish. He is determined that Aislinn will become the Summer Queen at any cost…
Suddenly none of the rules that have kept Aislinn safe are working any more, and everything is on the line: her freedom; her best friend, Seth; her life; everything.
When the words "I had to force myself through it" are used in reference to a book its probably not the best sign. There are five books in the Wicked Lovely series. I managed four and a half before I reached breaking point. Don't get me wrong, I understand why this is a popular series and I appreciate all the faery details.
But here's the thing, too much detail with not enough explanation doesn't make for great world building. I've read a few faery stories so I understood most (though definitely not all) of the references, but somebody going into this with no prior knowledge would probably be incredibly confused, and making great use of google. I loved the idea of the courts and before I read this everything I had heard led me to believe I would love it.
In addition to some not-so-great-world-building there were the characters. This time I think it may be more of a personal thing, the characters do develop and some of them were interesting. But some of them were also kind of bland. Which in a side character might not be such a big issue. But if I don't like or particularly care about the main character (Ash in this case) and if the romantic interest exists only to be a romantic interest (I know he gets more important later in the series but I have barely got to that point and don't think I will get any further than I currently am) then I am just not going to be wildly excited to find out what happens.
All in all I found this series to be a little disappointing. I do have two other Melissa Marr books on my shelf (Graveminder and Made For You) which are not, I don't think, faery related. I will hopefully give them a go at some point in the future but I don't think I will be finishing this series.
If you are interested in reading a faery series then I strongly recommend Wondrous Strange by Lesley Livingston which I read and loved quite a while ago and my sister Ann would like to put forward The Iron Fey series by Julie Kagawa, I will be taking her advice and reading that series next.